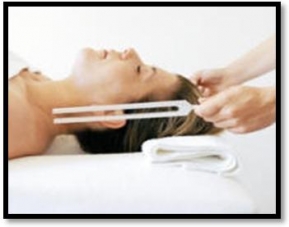 In ancient times, these sounds are known as sacred, excellent vibration leading to union with God. Pythagorean mathematics and secrets buried for 3000 years the original musical scale. It is the ancient Solfeggio, whose sounds have a stimulating effect on our consciousness and DNA, which throughout history has been suppressed and distorted.
 The Six Solfeggio Frequencies :

UT – 396 Hz – Liberating Guilt and Fear
RE – 417 Hz – Undoing Situations and Facilitating Change
MI – 528 Hz – Transformation and Miracles (DNA Repair)
FA – 639 Hz – Connecting/Relationships
SOL – 741 Hz – Awakening Intuition
LA – 852 Hz – Returning to Spiritual Order
 What helps Healing Tuning Forks to get rid of internal chaos and anxiety.
-Greatly improves our memory and concentration.
-There is a growing level of intelligence, we can creatively and effectively learn to solve problems and increases the effectiveness of our work.
-Increasing self-esteem and confidence.
-Improves your health.
-Effectively mute and relax after a day full of stress.
-Quickly regenerate your strength.
-Purifies the mind and the body of toxic thoughts and emotions.
-Growing your creativity, there are creative ideas. Increases your sensitivity and intuition (better anticipate developments).