Description
Sananga Forte Eye drops 10ml
With a large eye defect, dilute the extract
The product should be stored in a refrigerator and shaken before use.
Sananga can cleanse the body and spirit, and at the same time allows you to look from different perspectives to the world around us. Unpolluted by today's civilization, the tribes of the inhabitants of the Amazon jungle, reveal to us anew the spiritual world of plants and animals.
Unity with nature
Inhabitants of the planet together with the natural development of consciousness are more and more aware of the existence of the so-called the spiritual world, which is only now slowly beginning to reveal its secrets to us.
Thanks to this, nothing remains dead and no event is meaningless.
The same applies to the world of plants.
Every living creature has its own subtle consciousness and it will take us many years before we understand the depth of this phenomenon.
Today, however, thanks to this knowledge, we can enter into all sorts of interactions with the world of nature.
It is no different with Sananga.
Origin
Sananga has been and is being used by indigenous people of Peru and Brazil for thousands of years.
Interestingly, the inhabitants of tropical forests use these eye drops mainly for hunting.
As in the case of Kambo, applying Sanangi dramatically increases the sensitivity of the senses, mainly the sense of sight.
The colors become clearer and every move in the thicket does not go unnoticed.
Some say that Sananga changes the colors of animals, which makes hunters see it more easily.
You could say that Sananga is a natural strengthening of the human body that activates our real possibilities.
Interestingly, you can also get it from the leaves, but only for immediate application.
From this fact, bark and roots are most commonly used, because Sananga, stored in such a way, can be used up to 6 months.
Cleansing the body and spirit
Sananga is a naturally produced eye drop, mainly used to purify the body on the physical and spiritual spheres.
Their application is connected with overcoming internal barriers and blockages, thanks to which experience forever, to a lesser or greater extent, affects the human body and mind.
It triggers new perception bridges in us, and the greatest advantage of such an application is the purification of the being out of fear.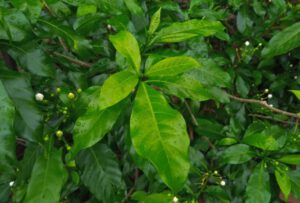 Dosage
Sananga are eye drops, so a helper is always needed for their use.
The person taking the drops, after loosening the body and mind, puts down comfortably or sits down in Turkish.
It is important to mute your thoughts before each application, because a shock caused by pain can confuse us.
One drop is assumed, for one eye, without intervals in time.
Immediately after this, there is a strong burning and stinging sensation.
For 15-20 minutes, a man should lie down and observe the action of spiritual medicine.
After this time, the body and mind are calmed down and relaxed, and the perception of looking sharpened even for the next few days.
Nevertheless, you have to be careful and do not overdo it.
It is recommended that Sananga be taken for a maximum of 14 days and take a break.
The best results are obtained by applying medicine at bedtime.
However, regardless of the medical treatment of Sanangi, our attitude is the most important.
So let's remember about respect and respect for the plant spirit.
It's like marijuana, when a man smokes too often and uses the plant as a stimulant, at some point instead of positive properties, brings to life fear, impotence and doubt.
Nobody likes to be raped, and so is the spiritual world of Mother Nature.
Healing properties
Sananga also heals physical ailments, most often associated with the eyes.
It is used for diseases such as glaucoma, cataracts and even blindness.
Properly prepared stocks help in faster healing of wounds, infections and even rooting poisonous animals.
It improves the patency of the sinuses and applies with common sense, improves mental health.
Man feels lighter, healthier and more confident.
You decide what is the drug for you
The information here is presented in private opinions and views. They are not written by a doctor. They are not a professional opinion or medical advice. They can not replace the opinion and knowledge of a healthcare professional, such as a doctor. All advice that is on my site is used only at your own risk.