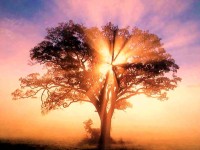 One of the shaman's most important tools is soul retrieval. It's possible for the soul to become dis-integrated through any of a number of common traumas, circumstances or situations that might take place during a person's normal course of living. When these occur, they may manifest in physical or emotional conditions that can not be healed by traditional medicine or psychological counseling. Conventional therapies only treat the symptoms. Until the root cause is addressed, the underlying problem remains – leading to recurring, sometimes increasingly more severe effects.
Soul retrieval focuses on locating, recovering and re-integrating lost parts of the soul.
Soul retrieval is a modality that has been practiced for thousands of years, by shamans in various cultures on every continent. Though the specific techniques for recovering the soul vary from one culture to another, the premises and goals of soul retrieval very similar – and have been throughout history.
What causes soul loss?
The reasons for soul loss vary widely. It's unlikely that we are able to list all the causes. The conditions under which a part of the soul will leave the body will differ from one person to another. Here are typical circumstances that are frequently the root cause of soul loss.
Physical, sexual, or emotional abuse as a child
Death of a child, parent, or close friend
Loss of a husband, wife, or lover – through death, or involuntary divorce or separation
Sudden and unexpected loss of a meaningful job or career
A sudden accident resulting in severe physical trauma, or sudden onset of a debilitating disease
Exposure to shocking or extremely stressful physical or psychological conditions or events – for example, witnessing a murder, serving in a war, undergoing chemical or radiation therapy
Codependent relationships – where one has unconsicously given a part of one's soul to another – say, in a parent/child or intimate relationship
Symptoms of Soul Loss
There are many, many symptoms that are indicative of soul loss. In tribal cultures, it's not common for someone to experience a soul loss for very long without someone in the tribe noticing. Members of the tribe are sensitive to other tribesmen's energy; and a conversation with the shaman will often lead to an interview with the affected person; followed by a journey to retrieve the soul.
However, contemporary culture does not support an awareness of the signs of soul loss – either by the affected individual, or those with whom he/she comes in regular contact. So, one may frequently suffer the consequences of soul loss for years, and try a number of therapies (unsuccessfully) before seeking help from a shaman.
Here are a few of the symptoms that are common to loss of a piece of the soul:
Loss of vitality or passion about life
Depression, listlessness, or a feeling that something is missing in life
Difficulty with focusing attention on the task at hand
An overly active mind – inability to control a continuous, random stream of thoughts – which often leads to insomnia or nightmares
Addictions to drugs, alcohol, or tobacco as a means of escape
Loss of memory about a period of your life
Unhealthy or unnecessary compulsions – such as excessive use of media like the Internet, television, and pornography
Recurring thoughts about dying, or suicidal fantasies
A sense of multiple personalities showing up under different conditions
Disconnection, or disassociation leading to feelings like the world is passing by without you, or unusually selfish behavior,, or a sense of wondering or not knowing why you're alive
Chronic feelings of shame, low self esteem, or lack of self-confidence.
Shamanism Ireland Shamanic Reiki Healing