Description
Spirulina to one of the healthiest and wholesome plants. They are blue-green elderberry, called algae. Of course, the algae have many valuable building and nutrients. Algae were the first to appear in the world 3.5 billion years ago and have survived to this day.
Spirulina consists of 58-62% of a full-blown fluid with a set of 18 amino acids and beta carotene. Spirulina also contains: gamma linolenic acid (GLA), linoleic gamma, chlorophyll, c-phycocyanin, peroxide dismutase (S.O.D), minerals, vitamins, including the complex of vitamins from group B.
Aliness Hawaiian Spirulina Pacifica®
Hawaiian Spirulina Pacifica® are algae derived from the clean waters of Pacifiku Kailua-Kona in Hawaii, USA. Kailua Kona in Hawaii has the world's best climate and environmental conditions for spirulina production.
Spirulina Pacifica® comes from one of the oldest spirulina cultures in the world, belonging to Cyanotech Corporation, cooperating with numerous scientific institutions in the US and Japan.
Long-term breeding experience has resulted in the improvement of the ordinary variant of spirulina platensis, making it one of the most valuable compared to spirulina from other world cultures. Cyanotech for breeding does not use chemicals – pesticides, herbicides, and the drying and tabletting process is patented and takes place without any loss of nutrients (the process takes place at low temperatures and lack of oxygen).
Hawaiian Spirulina Pacifica® has a much higher content of key nutrients than other products of this type.
Hawaiian Spirulina Pacifica® is grown using 100% potable water from the Hawaiian aquifers and pure ocean water rich in 94 minerals.
Hawaiian Spirulina Pacifica® is in the so-called Biosecure Zone (bio-safe zone), a place free from pollution, pesticides, industrial waste and herbicides. It is the environment closest to the natural one. Detailed quality control takes place at every stage of production. This caution is justified because spirulina belongs to blue-green algae, which in poor culture conditions can produce dangerous toxins that are located in the cellular structures of these alg.py B.
Aliness Hawaiian Spirulina Pacifica® has numerous international quality certifications, such as ISO 9002, kosher certificate, Halal certificate, GMP production and safety certificates of use. The final product is tested by independent laboratories to confirm the quality and safety of consumption.
Hawaiian Spirulina Pacifica® has received GRAS (Generally Recognized As Safe) status from the FDA (US Food and Drug Administration).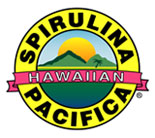 SpirulinaPacifica®
1tabletka – 500mg
6 tabletek – 3000mg
Action:
Spirulina maintains the proper level of sugar.
Spirulina strengthens the natural defenses.
Spirulina supports the body's immunity.
Ingredients: Spirulina Pacifica (Arthrospira platensis Algi), anti-caking agent: colloidal silica.
The recommended daily allowance necessary to obtain beneficial effects of the product: 2 times a day for 3 tablets, after eating.
Do not exceed the recommended dose for consumption during the day.
Dietary supplement can not be used as a substitute (replacement) of a varied diet.
It is recommended to use a varied diet and a healthy lifestyle.
Storage conditions: Store at room temperature in a manner not available to small children. Protect against moisture.
Package contents: 90 tablets of 500 mg
Place of origin: Hawaii, Kailua-Kona, USA.